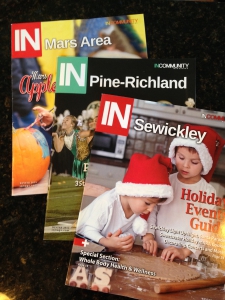 When editor Nicole Tafe with InCommunity Magazines interviewed me back in September about my life as a writer, and what inspired me to write Return To Me, I had no idea it would turn into such a generous feature story, appearing in ten magazines, across two of the cities I've called home.
The two-page spread will appear in mailboxes this month and next, published in the Winter 2015 issues of IN Pine-Richland, IN Mars, IN Fox Chapel, IN North Allegheny, and IN Sewickley. Coming this spring, the story will run in the Philadelphia magazines distributed to Marple Newtown, Radnor, Phoenixville, Great Valley, and Treddyfrin & Easttown.
As noted in the article, photo credit goes to the remarkable Moments Kept Photography for capturing my family. My kiddos are enjoying being a part of the hype, and I love that they are!
I couldn't be happier! Thank you IN Community Magazine 🙂