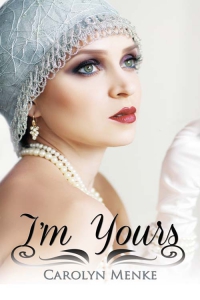 Kickin' off the new year with this review by Readers' Favorite! Thank you! If you haven't picked up your copy, the e-novella is available on Amazon, Barnes & Noble, and The Wild Rose Press, among all other e-retailers.
Reviewed by Michelle Stanley for Readers' Favorite
I'm Yours is a short story by Carolyn Menke. Beautiful Audrey McCall dreams of becoming the next star on Broadway and will do anything it takes to make it big in the glitziness of the Roaring Twenties, but her overly generous boyfriend, Edward Stark, wants to hinder her plans. Audrey wants to accept the role that Rex Wyatt, a playwright, has for her, and knows very well that an offer like this will never come again. She cares about Edward but knows he does not understand why she still prefers to act instead of becoming his wife, or why Rex is an important person in her life right now. Is it possible for opportunities to come knocking a second time?
Carolyn Menke captured the atmosphere of the glamorous Roaring Twenties era quite nicely in her romantic novella, I'm Yours. She writes passionately and expressively, enabling the characters to convey how they feel about their lives in alternating chapters. Edward is a little obsessive while Audrey seems uncertain of her future. The dialogue is clever and I really think the cover illustration is perfect for the short story. I'm Yours is not a fast paced novella, but one that has a laid back rhythm based on the setting. It has an intriguing ending and is the prelude to Return to Me, set in the 1940s. Readers of romantic novels will enjoy Carolyn Menke's short story, although I think it's suitable for an older generation, based on the author's writing format.
See the published review here.