My phone buzzed last week when I was volunteering at an after school program. I pulled it out to check the text.

The other parent asked, "Everything okay?"
"Yep. My daughter's home." Her bus comes to our driveway at 3:50, so she was right on time. I showed her the text from SmartThings.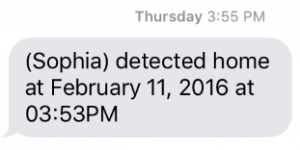 "How'd you do that?"
I told her about the hub that connects to the house Internet and how we placed a small device in our daughters' backpacks (our oldest daughter has the app on her phone, so she didn't need the device). "And we use Sighthound," I said of the app.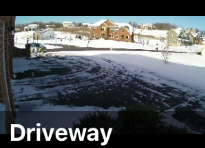 Sighthound developed video surveillance software that, with the use of a camera, allows you to keep tabs on what's happening around your home and on your kiddos' comings and goings — like this picture of our driveway.
Why we love them
Peace of mind. I have three kids in three different schools. That means three bus schedules and multiple after school activities. The schools get my kids safely aboard their buses, but on those days where I need to run my eight year old to the orthodontist, or drive the dance carpool, it's an added comfort to know that my ten year old made it home safely to the sitter. With Sighthound, I know when all of my kiddos are home and when they leave. My husband installed a camera outside. I love that I can see the outside of our house remotely using the app — for added security.
For carpools. I can't easily see the driveway from inside our house, and I wanted to be able to know when the carpool driver arrived to pick up or drop off our kids so they'd be ready. Before we started using Sighthound, we had to leave the big garage door open and repeatedly check by opening the door off the kitchen, letting in blasts of cold air, or…listen for a honk. Now, my kids and I can view the driveway from our TV, any laptop that's handy, or phones, and I also get an automatic text when a car pulls up our drive. It's a beautiful thing. 
The dog! Ah, the dog. Ginger, our goldendoodle, loves to keep watch at the top of the hill on our driveway. It's another blind spot for me from inside the house. At one point, after she'd been trained to stay in our yard, she decided to traipse off to Angus and Bubba's house (the cute goldens up the street). Now I can keep tabs on her, too. Occasionally an alert will be triggered (I think by the dog) or maybe a person jogging by? So that's an area of improvement.
How Sighthound works:
Sighthound uses computer vision to analyze your video stream to look for human beings. Like I said, I get a text when family members come and go. On Sighthound's website they state: the software adds a new level of intelligence to IP camera security software. I can vouch for that. I love it so much I felt compelled to blog about it after all. Watch a video to see how it works. You can download a low res version of the software for free. We opted for the one time fee of $60. Then, you need to buy the camera. If you're really into DIY, you can turn a laptop into a camera. 
For more info:
For more information, check out SmartThings
For more information, check out Sighthound.