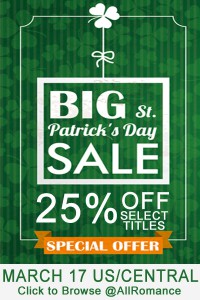 Happy St. Patty's Day! All Romance Books is running a 25% off special today !
Both of my books, which are companion works, are being featured today. If you read one but not the other, today's a great time to scoop it up.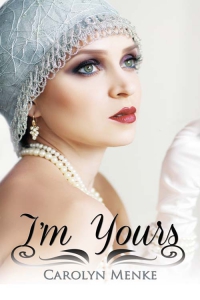 Excerpt from I'm Yours, my Roaring '20s historical:
"Let's dance." He twirled her, this woman who'd become irresistible like the illegal booze lingering on his tongue.
She angled her head at him, her eyes the sparkly green of a gin fizz. "Jazz makes fools of us all. Especially you."
"And here I thought you were the kind of girl who—"
She slinked away before he could finish, inviting him to watch her with a coy glance over her shoulder, parting the dense crowd with a raised slender arm all the way to the stage where the musicians were finishing their number.
He'd asked for it.
"You're wrong, whatever you thought! At least tonight. Tonight I'm whoever I need to be," she called, stepping onto the stage, the spotlight finding her, applause and catcalls reverberating around the dark club.
He shook his head, knowing she meant whoever Wyatt needed her to be.
The sax player's voice echoed over the microphone. "Ladies and gentleman, let's hear it for the lovely Ms. McCall."
Ah, the reason she'd come. Edward shouldn't have worried. He'd have preferred their party of two over this scene, but when she blew him a kiss from the stage, his chest swelled with confidence. He knew she was here to impress Wyatt, but that her thoughts were on him, and him alone. Edward smiled smugly, then he took the empty seat next to hers by Wyatt, focused on his sweetheart about to sing on stage, and draped his arm over the back of her chair.
"Rex Wyatt," the playwright said, cig dangling, holding out a hand over the table.
Edward let him hold it there for a beat too long before shaking it. "Stark. Edward."
"Say, that Audrey. How do ya know when she's for real?" Wyatt joked.
Edward smiled in her direction as her opening chords filled the air. Easy. When she lets you. But to Wyatt he said, "She's the real deal."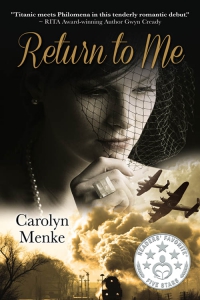 Excerpt from Return To Me, my 1940's WWII historical:
James brought her scar to his mouth and brushed his lips along it. "I would have liked to have known you then. Really known you."
She was overcome by a wistful affection for him, and for the time they'd lose while he was gone. That burning along the bridge of her nose heated her whole face to the point she dropped her tear-filled eyes.
"The war won't last forever, Sadie. I'll be back before you know it and we'll be together." He smoothed her hair from her face and traced his thumbs over her lips. "Did I tell you I bought us that farmhouse in the country you've had your eye on?"
She gasped, forcing her quivering lips into a smile, grateful for his well-timed fantasy. "You mean the one with the pond and the weeping willow?"
"That's the one." He kissed her nose. "With the barn and more land than you can see from the porch. I already dug the holes for the fence posts." Now he kissed her lips while cradling her face.
"Not bad for a city boy." She pulled back to crinkle her nose. "Tell me more."
"We can teach the kids to ice skate on that pond," he said.
"Oh, there will be kids?"
He nodded, stone serious, his laugh creases now white lines marking each and every wonderful trace on his flushed face. "A bevy of girls like you. We'll be blessed with a house full of them—"
"Unless they happen to be sons. To help in the fields."
"Fields? But I'm just a city boy."
A smile rippled over her and she bit her trembling bottom lip to quiet that unease which kept creeping back.
"And long after the war is over, on hot July days, we'll swim in the pond and lay like this."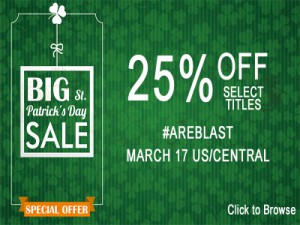 https://www.allromanceebooks.com/product-returntome-1863510-148.html