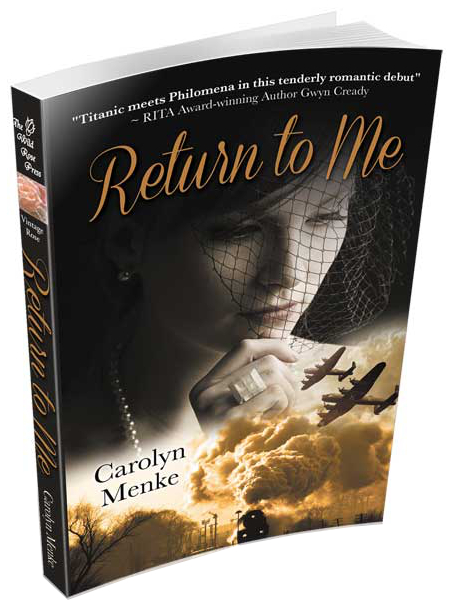 Return to Me
Eighteen-year-old Sadie Stark, raised by the governor of Pennsylvania, has the world on a string. She doesn't need the mother who left her any more than she needs the fiance who promises to change. What she needs is to finish college, and keep her wits about her.
When war-bound James Pasko returns her stolen clutch, and shows her what's missing in her life, she gains the courage to search for the truth about her past.
What Sadie uncovers rattles her to the core. But James' steadfast love gives her hope for the future—for the first time—even as the war tears them apart.
When James disappears over enemy lines and Sadie makes a startling discovery, she must decide to follow in the footsteps of the mother who gave her away, or face a life of hardship like she's never known.
A sweeping, romantic debut that brings the war-time forties to vivid life in this Titanic meets Philomena tale—fast-paced, tender, and real.
Menke's writing is so lovely you will want to wrap yourself in her words and savor each moment you spend in Sadie's story. Return To Me will tug on your heart strings and take you on a journey back in time.
A timeless tale of love, loss and sacrifice that will equally break and warm your heart, as you cheer for the beautifully complex characters until the very last page.
I loved this heartwarming, sweet story of love and all its obstacles. In Carolyn Menke's Return to Me, Sadie Stark and James Pasko's accidental meeting ignites passion that takes them by surprise. Their affection grows even as complications ensue, forcing them to examine all that they believe is important in life. These dynamic, likeable characters and their tangled life sucked me into the book, right back in time to World War II. Heroics, secrets, longing, loss, and hope all meld to keep the plot tight and compelling until the very end. Sadie and James' journey back to each other is wrought with warm moments and cold choices that threaten the idea that love really is enough. Wonderful writing, beautiful imagery and a lovely happy ending—what else can a reader ask for?