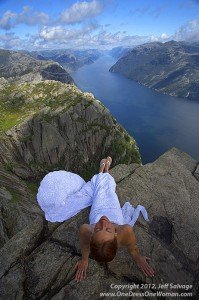 Today I'm speaking with Jennifer Salvage, co-author with her husband, Jeff, of One Dress, One Woman, One World: Experience the World Through the Eyes of a Bride.
On their wedding day in 2008, Jennifer and Jeff Salvage hiked across Easter Island with her lace gown stuffed in a backpack. The photographs Jeff took of Jennifer inspired the extreme-loving couple to continue their adventures—with Jennifer wearing the same dress—in more than 150 exotic places around the world.
What I want to know is how this globe-trotting duo gel when the photo shoots and nationally-televised interviews end—when they are a typical couple like the rest of us, dealing with the day-to-day. Jennifer shares:
1. Water your marriage garden.
Me: Tell me why your marriage works?
Jennifer: It's a gift to have a project where you can grow with your spouse, so we are so lucky, but I think we work hard at watering the marriage garden as well. At home our interests include sustainability, maintaining a green home (with solar panels and an electric car), gardening, and lots of walks with our fur child, Munson.  Many of our neighbors note that we are the only couple that walks our dog together every weekend day in any weather!
Me: You two have traveled the world together. What has been the most unusual place where Jeff has photographed you in the iconic dress? What about the most usual?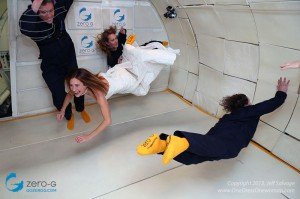 Jennifer: The most unusual place so far is definitely the Zero-G Weightless Experience. It was wild, fantastic fun for me floating around—a little less so for a husband trying to shoot me through the lens while floating around. Most usual might have to be kayaking in our lake!
Me: Do you lounge in the dress at home just for fun or to be romantic?
Jennifer: I have worn it at home for an interview, but definitely not for lounge wear. I am a fleece pants girl for that!
Me: I have to know—how do you keep the dress (and yourself!) looking so good?
Jennifer: I get the dress cleaned at the cheapo $1.99 dry cleaners (Any Garment Cleaners). You should see their reaction when I walk in with two identical wedding dresses! Bridal designer Maggie Sottero gave us the extra dresses. It's just built to last I guess. As for me, I own a membership to the chocolate lab gymnasium called Munson. Also, I have a husband who eats fat free, vegan, whole grain and no refined sugar the majority of the time, so I try to as well.
2. Stay connected to each other.
Me: Are there times when you and Jeff feel disconnected? How do you overcome that?
Jennifer: I never feel disconnected from Jeff, but sometimes from myself.  Modeling is an unnatural activity to me!  I have had some tough things in my past and when I feel uncomfortable, I want to pull the ostrich approach and ignore it. I have learned to identify what the underlying issue or anxiety is, and communicate it to Jeff so he understands, which keeps us connected and gives me support.
Me: Would you say your mutual support of each other has helped you do things you never thought possible?
Jennifer: Just one year ago I would have bet the farm that I could never be on national television. Good Morning America proved me wrong this past fall.  We will be live guests on Australia's version of Good Morning America next winter (gulp!).
3. Text, tickle, and cook up some fun together
Me: What are your favorite ways you and Jeff connect with each other?
Jennifer: One of the biggest ways we do this is by walking together, because when we walk, we talk and plan our future. We also make time to be physically close when we are together, frequent back rubs, holding hands, tickle wars—the usual cutesy stuff that makes single people (or disgruntled couples) gag! Cooking together is an adventure when seeking whole grain, fat free, vegan recipes with no refined sugar that we actually want to eat. We watch shows together that make us laugh like Two and A Half Men (well, it used to make us laugh) and Last Man Standing. And, we watch movies together a few times a month. To connect during the day when we are apart, whoever is home sends cute photos of Munson with funny texts from Munson's voice. "Mommy, I miss you. Bring me home a marrow bone."
4. Cool off before tackling the big stuff
Me: What about conflict. How do you handle that?
Jennifer: I always say, whatever it is, get it sorted out before you hit the sheets so you can feel good lying next to your spouse. When we disagree, it is always a miscommunication and usually because we are over-stressed and have not had enough time together. Munson helps us end conflict quickly, because when voices carry irritation, she whines incessantly until we start laughing (it's ridiculous…I should record it). If I am really mad, which is very rare—but hey we're married, it happens—I go for a long walk. Actually, more of a stomp around the lakes. Three miles later I can usually articulate why I am hurt or angry without being mean or escalating the situation. Jeff does not take offense. He knows we communicate better after my walk and that we'll talk as soon as I get back.  When he is mad, we have the conversation right away. He does not need time to process what he wants to say!
5. Give more than you take
Me: What are some of the ways you find yourselves compromising and how do you feel about that?
Jennifer: Great question. Jeff and I talked about this recently.  We are so lucky that very little in our life is a compromise—from making financial decisions to deciding vacation plans to renovating the house. Our taste is so similar sometimes it is scary. Honestly, the first big compromise for me was moving an hour from my job and for Jeff it was getting a chocolate lab, which was a bigger dog and two years sooner than he thought he wanted. My biggest compromise recently was agreeing to buy the Tesla. I had never spent more than 30,000 on a car before. But I felt good about it because I knew how much it meant to him. Admittedly, I am enjoying the car as much as he is!  In the end, I think we are both able to feel good compromising, when needed, because we put each other first and try to give more than we take.
6. Keep surprising each other
Me: How do you feel putting the dress on again and again—has it lost some of the magic or is it like preparing for your wedding all over again?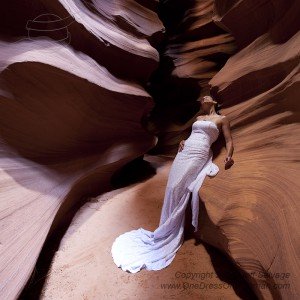 Jennifer: It has not lost the magic, but it is not like prepping for the wedding either.  Honestly, it depends on my mood and the particular shot.  In Antelope Canyon, Utah I felt very romantic and sensual.  In Lijiang, China (the water wheel) my eyes were puffy from crying over the death of my great Uncle Lawrence.  Some days I am into it and others I am tolerating it!  Jeff is very good at knowing when not to push it.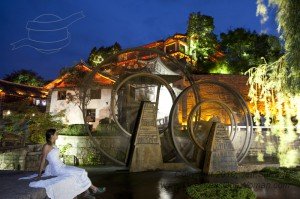 Me: How do you keep that sizzle alive in your marriage?
Jennifer: Occasionally we indulge in suggestive texts to each other to keep things fun and build anticipation. We have a romantic dart board in the bedroom, a deck of suggestive cards, as well as love coupons that we exchange. When we feel we are in a rut, we acknowledge it and plan a special night. Stepping outside your comfort zone when you feel safe can definitely help. I find there is a direct correlation between significant physical contact—and I am not referring to actual sex although that counts too—and a level of satisfaction with one's partner. This is why we go out of our way to touch each other, be it hugs, shoulder rubs, holding hands while we walk, a hand on his thigh. You get the idea!
7. Follow your dreams and support each other's
Me: How do people react to seeing you doing extreme stunts in a wedding dress?
Jennifer: The reaction has always been that it is romantic, creative, fun, amazing, brave, and gutsy. The only criticism is from people who assume that we are spoiled rich one percenter's who don't work, rather than two teachers!
Me: Tell me about your next project, your upcoming memoir, When it Clicks! One Woman's Journey from Solo Hiker to "Model" Wife.
Jennifer: I was contacted by an agent last spring who asked me to write the story as my memoir.  I am currently working on the last two chapters.  Our agent got a new job with a company that only promotes children's books so we are looking for a new agent and/or publisher or we will self-publish.  It has been an incredible process for me to write about my life—from the difficulty of divorce, and dating in your thirties, to meeting Jeff and the evolution of this project.
Me: Sounds exciting! I wish you the best of luck with it all.
Me: What shots are you and Jeff still looking forward to doing?
Jennifer: I look forward to so many shots right now!  Our future travel includes Jordan and Petra over spring break.  Thailand, Cambodia and Malaysia this summer and Australia next winter.  I think I most look forward to diving in Australia and a shot holding a koala bear.
Me: And a fun one for Jeff—I can guess at who gets more packing space on your travels between the dress and your camera equipment. But what I want to know is who requires more time to prep for a shoot?
Jennifer: Jeff wins the more luggage award due to equipment. I win the speedy Gonzales award. Even at my actual wedding, I was ready before the minister and the photographer!
Me: Thank you, Jennifer, for taking the time to share with us. I think many couples out there will relate to what you said about relationships and communication. I wish you and Jeff the best of everything in your future.
For more information about Jennifer and Jeff's adventures, please visit their website at: onedressonewoman.com and follow them on Twitter at @1Dress1Woman. Like their Facebook page at https://www.facebook.com/OneDressOneWoman.
You may purchase their book One Dress, One Woman, One World through Amazon.com for $39.95, or purchase a signed copy directly from the co-authors for $20 at www.onedressonewoman.com.
Leave a comment to tell us how you and your spouse keep each other happy, how you resolve conflict, or how you share your common dreams while staying true to yourself.