eCrumbs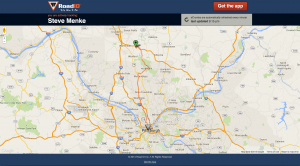 When our kids used to nap, my husband would bike the back roads near our house on the weekends, but I always worried. Once, during a thunderstorm, I woke up my youngest from her nap, strapped the kids into the car, and went looking for him. He sometimes rides 50-60 miles, but he always (sometimes) tells me where.
When we finally found him in North Park, drenched and happy, I was confused (and a little irritated). Because…
No, he didn't need help.
No, he didn't want a ride.
Yes, he wanted to finish.
Did I mention I woke my sleeping baby?
Of course I was relieved. And that was the last time I freaked out about his riding until a few years ago when this conversation took place.
"I'm going to bike to work," he announced.
"You're doing what?" We do live in Pittsburgh, the least biker-friendly place on earth. We've got cliffs, rivers, bridges, and potholes. I pictured him hugging the shoulder on I79, passed by tractor trailer trucks. Not gonna happen.
"I'll take backroads," he said.
"All the way to downtown?"
"Yep." He grinned smugly, zipping his laptop into a backpack. This was premeditated madness.
Of course it's impossible to argue with an engineer and win. So, I didn't fight the logic. By car it takes him 40 minutes to drive the 23 miles to the office. But he'd need an extra hour to get a decent ride in each day. And coming home at seven o'clock to pouncing kids doesn't leave time for much else.
He figured – why not combine his commute with his workout?
In a perfect world we'd all have time to work out and spend time with our families and hang with our friends, maybe get a decent night's sleep, and oh, yeah, work to pay the bills. But how often does this actually happen?
I liked his idea, but I had a problem with safety. Then, one day when the kids asked where dad was because his car was still in the garage, I got this text from eCrumb:
Steve Menke sent you a message from the Road ID app: Commuting to work by bike. Track me at: tinyurl.com/nctyml6
Huh?
I clicked on it and saw exactly where he was on the map. I can track his movement. Know where he is at all times. Find him if I need to. Hmm…
That night I got another text from eCrumb: "Commuting home by bike. On perrysville, parallel to the 279 HOV lane at 6:15." Not too shabby.
eCrumbs are electronic breadcrumbs you can email or text to family and friends whenever you head outdoors to run, bike, hike, or walk. If you stop moving for more than five minutes, it can send you an alert.
I had to hand it to him. His bike commute takes him one hour and fifteen minutes. He joined a gym downtown so he can shower when he gets there and store his stuff. Then he goes to work. He bikes home, getting 40 miles of biking in every day that he rides to work. It's not every day, but a fair amount when the weather is right.
So, here's my plug for Road ID.
Get the app.
Get active.
Leave her (or him) a little peace of mind by using the eCrumbs. Oh, and if you happen to see bikers or runners or walkers trying to share the road with you today, let them. And then get out there and join them.