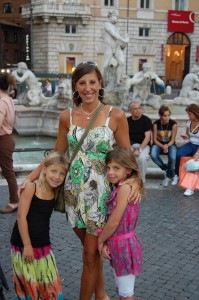 Have child, will travel? Absolutely, for this mom, Dana Faletti, who has embarked upon more trips this year than most of us have in the last two. I decided to pull up a chair and get the skinny on how she does it, and what tips she's picked up over the years.
How old are your kids?
I have three daughters. 10, 9, and 5.
Where have you taken them on trips?
Traveling is our family passion. We have done typical things like Orlando – the Disney and Universal track, but we've also taken the kids to Italy and also to New York City several times. We go to Marco Island yearly. When the kids were in preschool or younger, we'd spend up to a month there. My husband could work remotely, and we all got to enjoy the beach. Those were the best days! We've taken several trips to the Outer Banks as well, usually with large groups. This is a fun trip but not a relaxing one!
When planning a trip with your kids, how do you pack? All in one suitcase? Separate?
For our children, packing, in an of itself, is an event. I think, for them, it's part of the great anticipation of the vacation. For the most part, my kids pack their own suitcases. Each one has a carry-on sized piece of luggage that they fill with specific items. I usually give them a list. 7 pairs of undies, 3 pjs, 4 bathing suits, 1 stuffed animal etc… They try to bargain for at least 2 animals, but I make them stick to 1! I find that if I allow them to choose their own clothing, they wear it without argument on vacation! Also, it's great to give them this responsibility. I over pack. I feel the need to have every color shoe just in case. My husband, on the other hand, is a proponent of the "I'll buy it when I get there" philosophy and literally throws some boxers and swim trunks into the suitcase before we leave for the airport.
Ha! Well, yes, all you really need is clean underwear, right? What's the best part of traveling with your kids?
The best part is making memories together. Watching my children discover the joy of eating ice cream in Southern Italy. Seeing the surprise on their faces when the conch they are holding onto oozes out of its shell on Marco Island. Listening to the Broadway channel on Sirius radio and having one of them say -"this is from the show we saw!" and then sing along with the music. It's all great!
That's really sweet. I remember you saying one of your daughters has allergies. Any tips for other parents on how to handle that?
My ten year old has a peanut allergy, so when we travel we always call the airline ahead of time to ensure that no peanuts are offered on our flight. It's also important to consistently ask questions at restaurants when you are on vacation. The South is known for frying in peanut oil, so we always ask what type of oil is used. When we traveled to Italy, we laminated a note card with the phrase "I'm allergic to peanuts" written on it in Italian. It helped to be able to just pull it out at different eateries. We had a big picture of a peanut on it with an X drawn over it.
What has been your favorite trip?
I have a bit of wanderlust. I love traveling to different countries and experiencing other cultures. It is a passion of mine! I have family in Europe, and I've been to visit them several times in France and Italy. Our favorite trip was when my husband and I flew into Belgium, rented a car there and drove through the Ardennes to visit Medieval castles. We then drove into France to stay with family.
Really cool. How do you handle jet lag?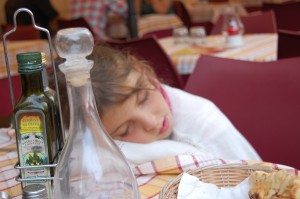 Jet lag is always worse for me on the way home, for whatever reason. I think it's because I live it up so hard when I am overseas, that when I come home, my body and mind are both spent. For days, I am thinking and talking in 3 languages, staying up until all hours of the morning and soaking up as much of my extended European family as is possible. Then, finally, when I am on the plane to come home, I crash and burn. Before I had kids, I would sleep for a week after a trip to Europe. The strange thing is that even after I am home for a few days, my brain still thinks in 3 languages. It seems to continue to work the translations to be able to speak to my French and Italian families.
As far as time zone changes, it worked in our favor when we took the kids to Italy. My youngest was not quite two. Since it was 6 hours ahead there, she tended to stay up late and join in on the festivities. Dinner is usually served at nine p.m., so she would eat dinner with the family, play for an hour or so afterwards and then be ready to go to bed around eleven or so. The kids were so active that the time zone change hardly affected them at all. The first few days, they were tired. I have pictures of my oldest daughter asleep on the table at a Roman restaurant and another of my middle born sleeping in taxis.
Food is never a problem for my family. We love to eat and really enjoy experiencing other country's culinary styles. Italy was easy with kids. They could always eat pizza or pasta!
What's your dirty little secret?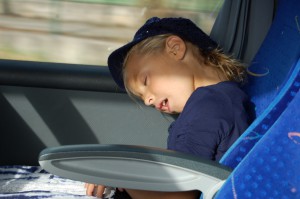 I drug my children on flights. Insert evil laugh. Seriously. The doctor encouraged me to give them Benadryl for flying when they were young. Worked like a charm. Until it backfired with my third child. The third always has to be different! We gave her a Benadryl on a flight from Florida to Pittsburgh once, and it wound her up like the Energizer bunny. She bounced from South to North and kept reaching up to flick the little reading light on and off and on and off. The guy behind us kept offering lollipops. Anything to get her to sit down and be quiet! After that trip, we knew no Benadryl for the little one!
My tricks are pretty simple -plenty of snacks for the plane, iPads, books, crayons, markers. Have things to keep them busy, and the kids will be fine. Remember to pack headphones for for the Ipad or Leap pad! It's too loud for them to hear the movie or the game app over the din of the plane. And, make sure to have some gum on hand for landing. It helps relieve the ear pressure if they chew gum.
Thank you, Dana! You've got me pumped to plan our next trip. How about you? What are your travel tips?
If you missed the other blog posts in this series, "Mom's dirty little secret: breaking up with plastic," or "Mom's dirty little secret: give me five," check them out. If you want to nominate an awesome mom in your life, please do!