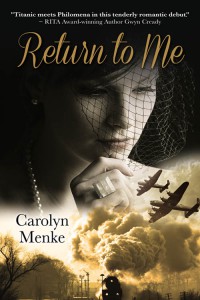 My book has a cover! What do you think?  
A huge thank you to the talented Kim Mendoza for capturing the essence of my historical war-time romance! I love the layered, romantic feel. The train's steam shooting into the sky and the bomber planes place us in a World War II setting. Sadie is every bit as lovely and contemplative as I imagined.
I have to admit I was nervous about this stage of the process. You pour every bit of yourself into writing a novel only to turn it over and let it go — like sending your baby off to school. But the whole team at the Wild Rose Press was highly collaborative from the start. 
Not only did they encourage my input, they asked which cover artist I wanted to work with (the entire team is unbelievable), and then I went about providing character descriptions and details about the time period, season, and storyline to further gain momentum.
Finding the right imagery for historical fiction is a challenge. Stock photography of the 1940s, for example, tends to be a little more editorial and pin-up and does not look period. In other words, the images are a modern day attempt to look old. However, Kim nailed this. I also love how she balanced the light and darkness and chose golden hues, and even the fonts are elegant and refined. Thank you again to my agent, cover artist, editor, marketing team – everyone at the Wild Rose Press!
Leading up the release, which is tentatively scheduled for end of summer, I will post more details.
Here's the plot:
Eighteen-year-old Sadie Stark, raised by the governor of Pennsylvania, has the world on a string. She doesn''t need the mother who left her any more than she needs the fiance who promises to change. What she needs is to finish college, and keep her wits about her. 
When war-bound James Pasko returns her stolen clutch, and shows her what''s missing in her life, she gains the courage to search for the truth about her past.
What Sadie uncovers rattles her to the core. But James'' steadfast love gives her hope for the future – —for the first time —- even as the war tears them apart.
When James disappears over enemy lines and Sadie makes a startling discovery, she must decide to follow in the footsteps of the mother who gave her away, or face a life of hardship like she''s never known. 
Here's what reviewers are saying about Return To Me:
"A sweeping, romantic debut that brings the war-time forties to vivid life in this Titanic meets Philomena tale—fast-paced, tender, and real." —RITA Award-winning Author Gwyn Cready
"Menke's writing is so lovely you will want to wrap yourself in her words and savor each moment you spend in Sadie's story. Return To Me will tug on your heart strings and take you on a journey back in time." —Dana Faletti, Author of the Whisper Trilogy
"A timeless tale of love, loss and sacrifice that will equally break and warm your heart, as you cheer for the beautifully complex characters until the very last page." —Lori M. Jones, Author of Renaissance of the Heart
"I loved this heartwarming, sweet story of love and all its obstacles. In Carolyn Menke's Return to Me, Sadie Stark and James Pasko's accidental meeting ignites passion that takes them by surprise. Their affection grows even as complications ensue, forcing them to examine all that they believe is important in life. These dynamic, likeable characters and their tangled life sucked me into the book, right back in time to World War II. Heroics, secrets, longing, loss, and hope all meld to keep the plot tight and compelling until the very end.  Sadie and James' journey back to each other is wrought with warm moments and cold choices that threaten the idea that love really is enough. Wonderful writing, beautiful imagery and a lovely happy ending—what else can a reader ask for?" —Kathleen Shoop, Author of After the Fog and The Last Letter