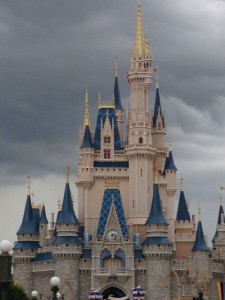 Where can you go on vacation knowing an employee will console your screaming kid? A Chef will concoct rainbow grilled cheese for the pickiest eater? You never have to grow up?
Nowhere, that's where – but Disney.
Disney remains my favorite family vacation. If your kids are ages 6-11, read this blog post for the skinny on today's Disney — post stroller and character meal days. It's a random list, but I hope you take at least one tip away.
1. FAST PASS App. This is sheer magic in the palm of your hand. Download the app onto your phone and choose your fast passes weeks in advance. I'd reserve the busier and hotter afternoon time slots when the lines are longest (if you go when we did–April/May).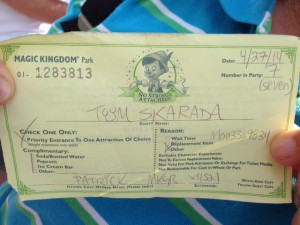 If your kids drag you from bed early like ours do, never fear. You'll walk on rides. We got extra lucky and scored a few of these nuggets (extra fast passes to be used anywhere, any time) after a little snafu at check in.
2. Skip the meal plan. We've always used one in the past but this time we decided to try something new. For one thing, once your kid turns 10, they're considered an adult. The prices go up and the menu options can be too "fancy" if your child prefers a cheeseburger. Without a meal plan, I could share an entree with my eleven year old, or when she wasn't too hungry after that Mickey Mouse ice cream bar, she ordered an adult appetizer. I didn't feel compelled to over-eat just because we'd pre-paid for it with the plan. Of course if you want to book character meals, you are better off with a meal plan. Now that my kids are getting older (sigh), we found this approach far better.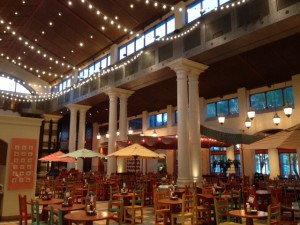 3. Stay at the Coronado Springs Resort. (No, I don't get paid to write this). It's a moderate resort, which means it's about half the price tag of the places on the monorail and has the best pool by far. You and your kiddos will love this market style eatery called Pepper Market where everyone in the family can place an order for what they want (taco? salad? crab cake sandwich?), all made to order. Even these cute waffles.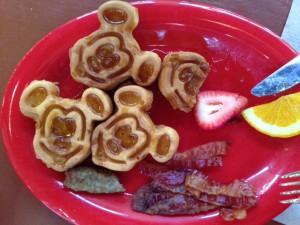 4. Eat at the Contemporary's WAVE. I used to consider the food at Disney to be second to the experience. I mean, you're not there for the food, right? However, I was blown away by the Wave. It was our first night there and we didn't have a reservation because we'd figured we'd eat at the resort. But since we'd had lunch there already, around 4PM we decided to try something else. My husband used that app I told you about and did a quick search. He scored a rezzie for 7 people at the Wave at 6:30 PM.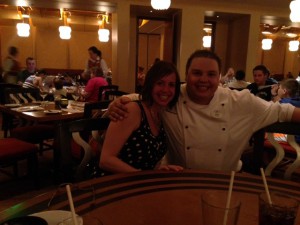 The food was outstanding — and the prices were great! The kids loved their rainbow colored grilled cheeses and huge make-your-own sundaes. The adults all loved the seafood and pork. I would venture to say it was one of my best meals at Disney. I even told Sous Chef David Barrette!
5. The many uses of bags — just don't call them that. Remember those bags I referred to in an earlier post about packing for our trip? When you go to Animal Kingdom, bring one of those "bagged" outfits per kid (and for yourself!). Because let me tell you, even at the height of the heat in the April Florida sun, your jean shorts will NOT dry out after riding Kali Rapids. And waddling around in wet shorts isn't fun – just ask me and my daughter. Of course you can always use the excuse to stroll over here and pick up a cute new dress.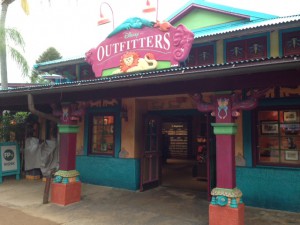 Whatever you do, you don't want to be wasting time under the bathroom blow dryer (tried it- ugh). And I have to say it — you know those hooded rain covers everyone wears on the water rides? I used to make fun of them but not anymore. You can pick one up at Walmart for $1 or get stuck wearing grandpa's trash bag instead (what we did). Just don't call it a trash bag when you hand your kids theirs to put on. Oh, and while we're on the subject of bags (sorry…), make sure you have a plan for those baggies I recommended in my packing post earlier via American Girl Magazine AFTER the clothes get worn. We ended up with a mountain of dirties that wouldn't fit back into our suitcase.
6. Street entertainment – Only at Disney will Mary Poppins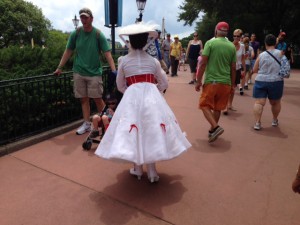 stop to console your screaming kid during a melt-down. Caught it on camera here. But that's not all. While browsing around in England, I was tapped to play in a street performance of Romeo and Edna. I was supposed to fall in love with a dude and die together, falling to the cobblestoned street.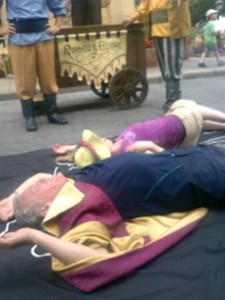 The best part was, "Romeo" didn't speak English. Good times, Epcot.
What tips do you have from your trips to Disney? Where do you and your family like to stay and eat? I wanna know!