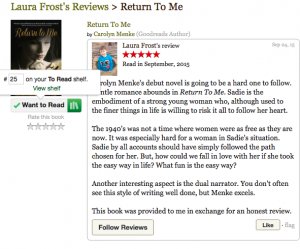 I'll be at the Penguin Bookshop tonight from 6:30-8:30 pm speaking about and signing my debut historical women's fiction, Return To Me.
Set in the war-time forties, Return To Me alternates point of view between Sadie, a college student raised by the governor of Pennsylvania, and James, a war-bound steelworker from Pittsburgh's McKees Rocks. One reviewer writes: "Sadie is forced to examine her beliefs as her world shakes over and over again, and the journey through hard times makes one wonder if love really is enough. In the end, the reader is left examining his/her own beliefs around that very question."
Bring a friend, your parents, your grandparents!
xoxo Carolyn