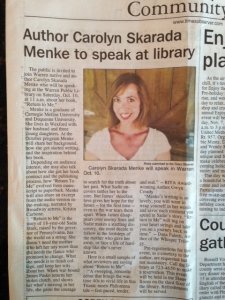 I'm counting down the days until I get to visit Warren, PA, for my next author talk and book signing!
Nestled near the Allegheny National Forest, this quaint front-porch community is a special place to me. My parents moved to Warren when I was in college, and over the years I've traveled the scenic back roads along the Allegheny River from Pittsburgh to attend countless family gatherings, holidays, Fourth of July celebrations, and even my wedding! My kids have grown up visiting their grandparents in Warren.
This Saturday I've been invited to speak at the Warren Public Library located at 205 Market Street in downtown Warren. I'll begin at 11:00 am with a book signing to follow. I'll share my background, how I got started, and the inspiration behind my book, Return To Me. I'll also share how I delved into my research of the 1940s, the process I went through as Return To Me evolved from manuscript to published paperback, and my forthcoming companion novella, I'm Yours, set in the Roaring Twenties. You'll get to hear an audio excerpt of Return To Me narrated by Broadway actress Kristin Carbone!
Thank you to Sharon Gage for setting up the event and advertising in the newspaper, radio, library, and around town. For more information, please see my event page.
Thank you to everyone for your support. Hope to see you there!